India Flights Duplicate Old
Cheap India Flights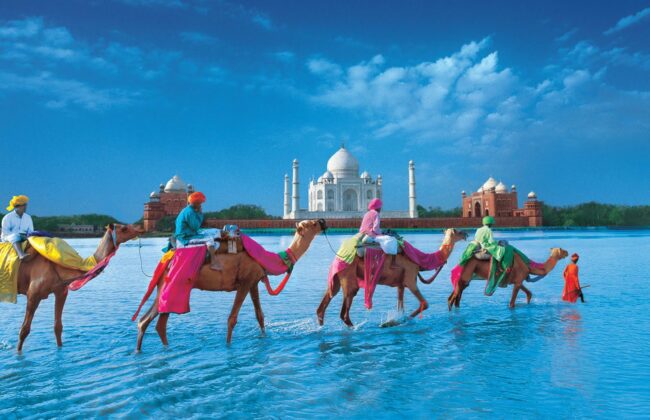 We are India experts and have been sending travellers to this amazing country since 1951. We specialize in cheap flights to India from Vancouver, Toronto, and Alberta. Flights to India are always on sale at Bains Travel! Contact us today for the lowest one way fares of the day, and deals you will not find online at 1-888-340-7447
Bains Travel: Your Ultimate Stop For Cheap India Flights
Do you find the best prices for your flight tickets, especially when you must book them at the last minute? Well, most probably, never. No worries anymore as we are right here to offer you excellent prices and deals for your flights.
Bains Travel is the go-to site for booking cheap India flights, tours, and many more. We have been providing services to travelers to India since 1951. We specialize in getting you the cheapest and safest flights while traveling to this beautiful country from Vancouver, Alberta, and Toronto.
The best part of our services is that we always have amazing deals and offers to wait for you. So you no longer have to depend on any particular occasion or festivity to get special discounts on flights on this website. That is because we are always on sale for you. So get the lowest quote today and fly to India without worries. Don't forget to check the fares at 1-888-340-7447.
Flexible on Travel Dates? We're Able to Show You the Cheap India Flights
How do you research cheap flights to India? You mainly check them on Google that never always gives you affordable rates for the selected dates. What if you were only checking the rates for flexible dates? Well, we got you covered for every situation.
Whether you have pre-set dates or flexible dates for traveling to India, we can show you prompt results. We have an innovative flight search tool that helps us to deliver curated deals only for you. Even with a flexible set of dates, we still have thecheap India flights information for you.
We have a high-end tech support team that is highly committed to advancing the search technology for you. Their expertise is unmatchable, and they are always on the go to update the technology to yield better search results for you.
So, just put the dates you might want to travel to India from your location on our website. We will be happy to show you the cheapest flights with other related details without fail.
Latest Cheap India Flight Deals
Flight deals are one of the greatest USPs of Bains Travel. Here we understand how crucial these trips are for you and how expensive the entire journey can get for several travelers. But, on the other hand, we also know how people like to save the total trip fare to this country. That is why we want to be your perfect partner in fulfilling your dreams of visiting India.
We believe in bringing you quality services at pocket-friendly prices in the market. So, our professional team is forever working on getting lucrative deals and offers for your travel plans.
Whether you head to India or back to Vancouver, we have a long list of cheap India flights ready for you. So, no more worrying about missing those deals on your flights or booking expensive flights at the last instant as Bains Travel is here.
Top Tips for Finding Cheap India Flights
Top Tips for Finding Cheap India Flights
We know how much you worry about the entire trip itinerary and fares while planning your next trip to India. Well, we always wish that our customers enjoy their tours to the fullest. That is why we bring you affordable flight fares all around the year. If you still need more expert tips, here are some for you:
Be Flexible
Planning a journey will only get cheap if you are slightly flexible with your traveling dates. As we have already researched the flight fares, we have seen how these prices fluctuate continually. Sometimes the mid-week prices are low compared to the weekend ones. So, next time you search for cheap India flights, try flexible dates on Bains Travel.
Start Early
If you already have been booking flights, you know how essential it is to start your plans early. Unfortunately, the more you lose time, the higher the prices get for the flight tickets. But if you want to lock the prices, no matter what schedule you might be following, try getting the tickets from Bains Travel.
Stay Updated With Bains Travel Deals
If you need a quick solution to book cheap flights to India, check out our website now. We have some of the best deals on flights and even on tours for you. Moreover, we have attractive prices and discounts on flights throughout the year to ensure that our customers save on their travel. And to add to this, you can get unique, personalized services from our team at any time.
Book Cheap Flights to India
At Bains Travel, we offer you not only excellent prices but also a seamless booking procedure. Our goal here is to make the entire journey fun and memorable for you. You can visit our offices or email us or even book flights from our website. Every time you book a flight, you get amazing discounts on the total travel fare. So get a quote from us today.
Contact Us
How popular are flights to India this year?
Flights to India are always in great demand and we are eager to offer our valued patrons deals that you will not find anywhere else. We look forward to always bring the cheapest fares to India and if you want to avail of these offers, get in touch with our agents at the earliest. We are renowned as India flight specialists since 1951 and take great pride in securing the best deals for travelers to India. You can also book tour packages and accommodation for your India trip with the help of our travel experts.
We can help you with flight ticket bookings from Toronto, Vancouver and Alberta. To avail of the lowest fares to India, get in touch with us at 1-888-340-7447. Alternatively, you can fill up our online enquire form to receive quotes for exclusive India fares. All our customer care representatives have extensive local knowledge and global reach to make your journey smoother, safer and happier!
When is the cheapest time to fly to India from Canada?
If you are planning a trip to India from Canada, the cheapest time to fly is in March. The festive season of Diwali, Christmas and New Year – all falling between October and January, is generally considered the peak season for travelling to India. If you want to book cheap flights to India from Canada, avoid this time of the year. However, if you are still looking for cheap flights to India, let our travel agents know. We have been experts in offering the cheapest flight tickets to India.
With Bains Travel you will always find unexpected deals and undisclosed flight rates. Our rates are completely different from those advertised online and we are dedicated to always provide our customers with the best deals. You can also avail of the lowest rates on hotels and tour packages to India. Get in touch with our experts at 1-888-340-7447 for more information and exclusive deals.
Which airlines offer direct flights to India from Canada?
Bains Travel gets you the best deals on flights from Canada to India. We have established strong relationships with different airlines and it enables us to provide our customers the best deals on direct flights to India from Canada. At present, Air India and Air Canada have direct flights to India and if you want to avail of the best deals, do get in touch with our experts now.
Since 1951, we have specialized as an India expert, providing customers the best travel deals and cheapest flight tickets. You can book cheap flights from Toronto, Alberta, Vancouver, Calgary or Edmonton through our site. For exclusive deals and rates on flight bookings, call our travel agents at 1-888-340-7447. We can also guide you with your India travel plan and assist you with hotel bookings and tour packages. With the knowledgeable and experienced staff at Bains Travel, you can rest assured about getting the best deals, always!
Cheapest Flights to India
Popular Tour Destinations