Classical North India
9 NIGHTS /10 DAYS
FROM $1,500
Get a Quote
Classical North India
9 NIGHTS /10 DAYS
FROM $1,500
Get a Quote
WHAT'S INCLUDED ON YOUR INDIA TOUR
Bains Travel is proud to be your India Tour Specialists since 1951!  Book a Classical North India Tour with us or any other India Tour and we can help with your flights, transfers, insurance, and anything else you may need to make your India Tour the trip of a lifetime.
Our India Tour specialists are available for in-person discussions in Vancouver, Surrey, Abbotsford, and Mississauga (serving the Toronto area).  Or, just pick up the phone from anywhere in the U.S. or Canada and one of our India Tour Specialists will customize any India Tour package just for you!  Interested in putting a group together? No problem, we are your one-stop-shop for everything in India!
All of our India tours include a chauffeur-driven vehicle, superior accommodation, some meals,  and a local guide. We offer 3, 4 and 5-star accommodation and compact, luxury and SUV vehicles. All tours can be customized to your specific preferences. Please call for pricing and availability.
DAY 1 - ARRIVE DELHI
Meet and assist upon arrival and transfer to the hotel. Check in at the hotel.
Overnight at the hotel.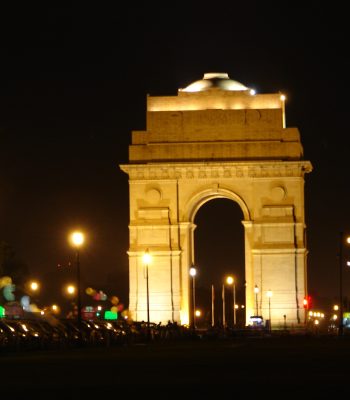 DAY 3 - DELHI TO JAIPUR
Breakfast at the hotel.
Drive to Jaipur and check-in at the hotel upon arrival. The capital of the state of Rajasthan is popularly known as the 'pink city' as the buildings in its old, walled city are all constructed in pink-coloured sandstone. Jaipur owes its name, its foundation and its careful planning to the great warrior astronomer Maharaja Jai Singh II (1699-1744). He laid out the city with its surrounding walls and six rectangular blocks by principles of town planning set out in an ancient Hindu treatise on architecture. In 1728 he constructed the remarkable observatory, which is still one of Jaipur's central attractions.
It is worthwhile spending any leisure time wandering through the bazaars. Jaipur is well known for its beautiful carpets, enamelled ornaments, precious and semi-precious stones, brass ornaments and many other arts and crafts. 
Overnight at the hotel.
DAY 4 - IN JAIPUR
Breakfast at the hotel.
This morning you will drive 11 Kms to the outskirts of the city to visit Amber Fort, the ancient capital of the State until 1728. Visit the Temple of Kali, the Hall of Victory or Jai Mahal and Jagmandir. You can have the unique experience of travelling on an elephant back to and from the top of the hill on which the fort is situated.
Visit In the afternoon visit the Observatory, the Palace of Winds and the City Palace and Museum. The museum has an interesting textile section, which contains dresses and costumes of the former Maharajas and Maharanis of Jaipur.
Return to the hotel for an overnight stay.  The rest of the day is free to explore the colourful town independently.  Spend time in crowded lanes & by lanes of the pink city, haggling and souvenir-hunting.
Overnight at the hotel.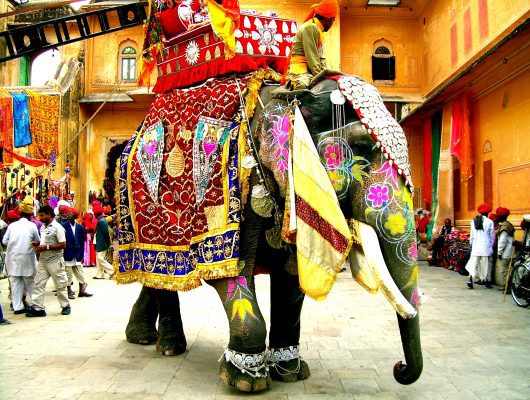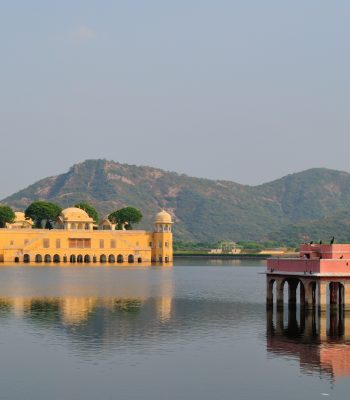 DAY 5 - JAIPUR – FATEHPUR SIKRI – AGRA
Post breakfast, drive to Agra visiting the ancient abandoned Moghul capital, Fatehpur Sikri.  This 16th century capital of Moghul emperor Akbar is a complex of forts, palaces and mosques built in sandstone. The city had to be deserted because of a lack of water. The white marble Tomb of Sheikh Salim Chisti, Akbar's spiritual adviser, is now observed as a Muslim pilgrimage spot here. 
Then continue your drive of approximately 45 min. to Agra. On arrival check-in and overnight at the hotel.
DAY 6 - IN AGRA
Breakfast at the hotel.
Today you will visit Agra Fort & Taj Mahal.
Agra Fort, which stands like a crescent on the banks of the Jamuna River enclosed by forbidding 20 -meter high walls, with a 12- meter moat between them. Three successive Mughal emperors – Akbar, Jehangir and Shah Jehan – helped create this massive structure that contains Hindu and Muslim architecture. Then proceed for the famous white marble mausoleum, which was built in the middle of the 17th century by the Mughal emperor Shah Jehan for his wife Mumtaz.
Visit the Taj Mahal surely the greatest monument to love and one of the wonders of the modern world. Completed in 1652, skilled craftsmen from Persia, Turkey, France and Italy and some 20,000 labourers worked for 17 years to build this edifice, constructed by emperor Shah Jehan as a mausoleum for his beloved queen Mumtaz Mahal. Marble was brought from Makrana, near Jodhpur and precious stones of onyx, amethyst, malachite, lapis lazuli, turquoise, jade, crystal and mother of pearl were carried to Agra from Persia, Russia, Afghanistan, Tibet, China and the Indian Ocean.  
Later return back to your hotel. Overnight at the hotel.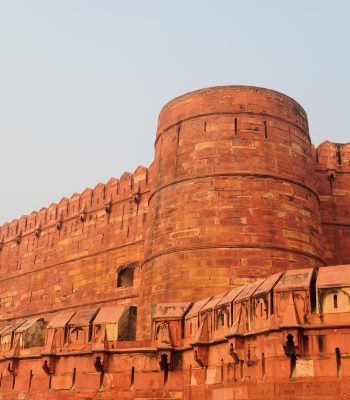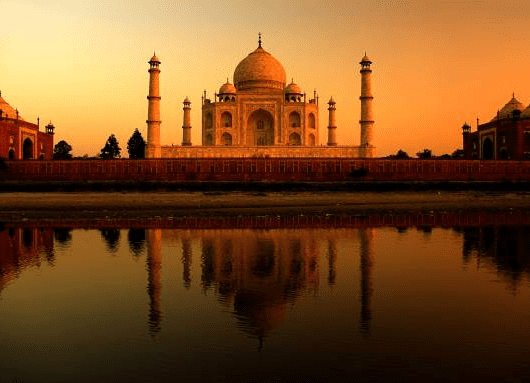 DAY 7 - AGRA TO JHANSI BY SHATABDI TRAIN | JHANSI – ORCHHA – KHAJURAHO
Morning transfer to the Agra Cantt railway station to board Shatabdi train to Jhansi. On arrival in Jhansi, assisted transfer to Khajuraho, en-route visiting Orchha.
Orchha is a town in the Tikamgarh district of Madhya Pradesh state, India. The town was the seat of an eponymous former princely state of central India, in the Bundelkhand region. Orchha lies on the Betwa River, 80 km from Tikamgarh & 15 km from Jhansi.
On a seasonal island on the bank of the Betwa River, which has been surrounded by a battlement wall, stands a huge palace-fort. The fort consists of several connected buildings erected at different times, the most noteworthy of which are the Ram Raja Temple and the Jahangir Mahal.
Later continue your drive to Khajuraho.
Khajuraho town in Madhya Pradesh is one of the most popular tourist destinations in India. Khajuraho has the largest group of medieval Hindu and Jain temples, famous for their erotic sculpture. The Khajuraho group of monuments has been listed as a UNESCO World Heritage Site, and is considered to be one of the "seven wonders" of India.
On arrival in Khajuraho, check-in and overnight at the hotel.
DAY 8 - TO VARANASI
Breakfast at the hotel. In Khajuraho visit Eastern & Western group of temples. The magnificent temples built by the Chandela kings. They are divided into three – eastern, western and southern groups. The largest temple is Kandariay dedicated to Lord Shiva. The temples known for their erotic sculpture are world-famous.
Later transfer to the airport to board flight for Varanasi.
On arrival in Varanasi assisted transfer to the hotel Varanasi picturesquely situated on the crescent-shaped left bank of the holy Ganga, Varanasi, one of the ancient seats of learning in India, is said to be a compound of the names of two streams, the Varuna and the Assi, which still flow in the north and south of the city respectively. Varanasi is probably one of the most ancient living cities in India. From time immemorial it has been a great religious center for Hindus and one of their most sacred places of pilgrimage, being visited by millions of people every year.
Visit the River Ganges in Varanasi to witness the evening Aarti and pooja.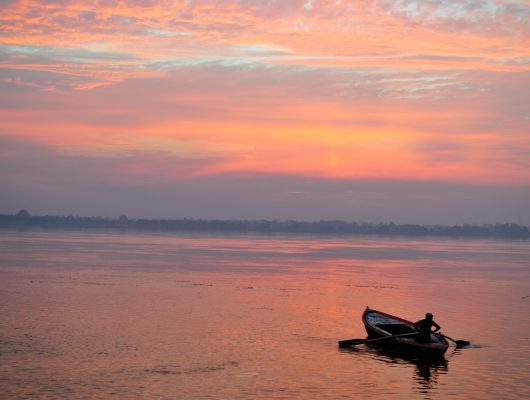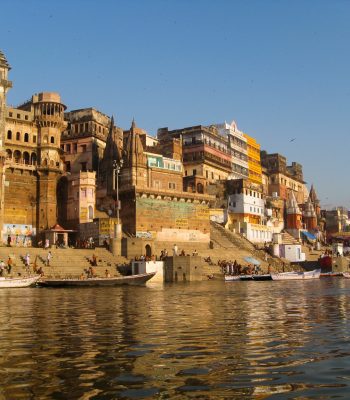 DAY 9 - IN VARANASI
Early in the morning, enjoy a boat ride on the River Ganges. The most important facet of this holy city is the river and the ghats lining its southern bank in the city. From dawn to dusk, the ghats are thronged by thousands of devotees, who perform their holy rituals in the hope of attaining salvation, the "Nirvana". Later also visit temples like Kashi Vishwanath temple – dedicated to Lord Shiva; Bharat Mata Mandir – dedicated to Mother India; Durga temple – dedicated to Goddess Durga; Alamgir mosque – originally a temple dedicated to Vishnu but now an odd mixture of Hindu and Muslim architectural styles.
In the afternoon proceed for a guided excursion to Sarnath – where Lord Buddha preached his first sermon. A major Buddhist centre, Sarnath lies 10 kilometres northeast of Varanasi. It was here that Buddha preached his message of the 'middle way' to nirvana after achieving enlightenment at Bodhgaya. In around 234 BC, Emperor Ashoka, a great follower of Buddhism, erected a stupa here. Between the 3rd century BC and the 11th century AD, several Buddhist structures were built here in Sarnath. Most of Sarnath's monuments are set in large gardens making it quite pleasant for a visitor to spend some time here.
Overnight at the hotel.
DAY 10 - TO DELHI
Breakfast at the hotel.
Later, in time transfer to the airport to board your flight for Delhi.
Meet and assist upon arrival and transfer to the International airport to connect your flight for onward destination.
WHAT'S INCLUDED ON YOUR INDIA TOUR
*Prices are based on twin sharing & include daily breakfast at the hotels, services of an English speaking local guide for sightseeing tours as per the itinerary, 02 bottles per person per day of mineral water, all prevailing taxes ie// luxury tax in all hotels and expenditure tax wherever applicable, all transfers to or from hotels, city tours, excursions, drives by air-conditioned car, mandatory Government Service Tax as applicable, interstate road tax, toll tax, driver's allowance, parking etc.
WHAT'S NOT INCLUDED ON YOUR INDIA TOUR
*Prices do not include any lunch, dinner, snacks, mineral water etc. unless mentioned in the itinerary, airfare for guest, Wi-Fi charges at the hotels, (Wi-Fi is always chargeable at the hotels), monument fee $110 to $180 depending upon the tour, portage, laundry, telephone calls, table drinks or any other expenses of personal nature, any item not specified under cost includes.