WHY BOOK WITH BAINS TRAVEL?
Let one of our Destination Wedding Experts with extensive experience arranging weddings in destinations all around the world do the work for you! Finding the perfect location and venue is key. Whether you are interested in an all-inclusive beach wedding, a magical Disney wedding, or a themed celebration, your Bains Travel Wedding Expert will find you the perfect option for your special day!
Our goal is the make things as easy as possible! We simplify the booking process, save you valuable time, and ensure everything goes according to plan. We work with you and your onsite wedding coordinator (where applicable), to build a custom package that caters to your specific needs. We can arrange flights, accommodation, private transfers, catering, and activities for you and your guests. Plus we will negotiate hard for spa and resort credits, wedding package discounts, and added value wherever possible!
TOP 3 FEATURED RESORT CHOICES
We have strong partnerships with the world's leading destination wedding resorts including Palace Resorts, Hard Rock, Sandals, Playa Resorts, Paradisus Resorts, AM Resorts and many more. Our strong relationships ensure that you always receive the best value and service!  Plus our services are complimentary so it DOES NOT COST more to use a travel agent!
With unlimited options available for destination weddings, we wanted to feature a few that are very popular for good reason!  These resorts offer all the options and amenities we feel are important, and can cater to the specific needs of any type of wedding. From start to finish these resorts will deliver an extremely high level of service and quality!
AM RESORTS
Breathtaking wedding locations, with private cocktail parties and receptions! Complete customization to avoid the cookie-cutter wedding. Dedicated on-site wedding coordinators to help you and your wedding couple every step of the way!
Choose from:
Zoëtry Wellness & Spa Resorts

Secrets Resorts & Spas | Offers South Asian Weddings

Breathless Resorts & Spas | Offers South Asian Weddings

Dreams Resorts & Spas | Offers South Asian Weddings

Now Resorts & Spas | Offers South Asian Weddings

Reflect Resorts & Spas

Sunscape Resorts & Spas
Offering expertly crafted South Asian Weddings, through their expertise and partnerships with amazing décor suppliers and chefs specializing in authentic Indian cuisine. Couples and their families can rest assured knowing that their traditions and customs will be honored, and their dedicated on-site wedding coordinators will work diligently to create unique and dynamic wedding events.  The Shaadi Package consists of 6 events over the course of three days and inclusive of 75 guests. The Dulha & Dulhan Package consists of 5 events from 50 to 100 guests.
Although the wedding packages are consistent across each brand, every resort has its own wedding guide with specific details including, ceremony and reception locations with guest capacities, sample menus, special services, and pricing for additional guests, décor, and wedding extras!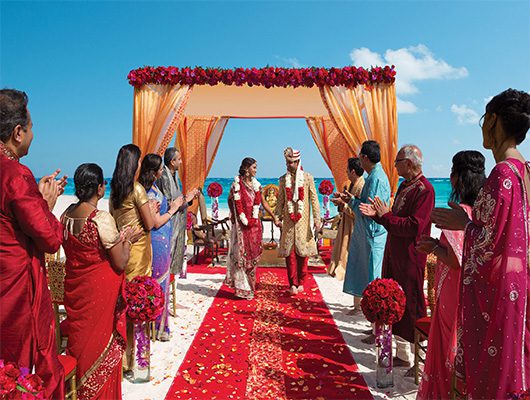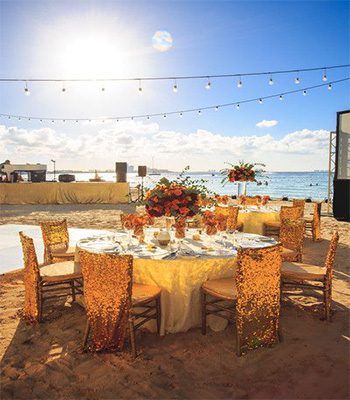 HARD ROCK HOTELS
Do you know who Colin Cowie is? He is the premiere event designer for the rich, famous, and you! Born in Zambia and raised in South Africa, Colin has made a career of creating jaw-dropping, eye-popping events, weddings, parties, and soirees. He is a frequent contributor to NBC's The Today Show, a popular personality on HSN with home and lifestyle collections, the published author of nine books on entertaining and events, and the host of Get Married on Lifetime TV.
Colin teamed up with the all-inclusive Hard Rock Hotels in Mexico and the Dominican Republic after being inspired by the opulence of our all-inclusive destinations. And when A-list style and Hard Rock come together, you get a wedding for the stars at a price that's down to earth. So join a world-renowned arbiter of taste where hardcore style meets luxurious Rock & Roll.
Our very own Mini Badacha is a Hard Rock WOW Specialist and can share with you all that they offer for Indian Weddings! From organizing important details such as skilled Mehndi artists to traditional Indian cuisine, Mini will help you customize the perfect wedding for your love story. She recently visited one of their properties and was very impressed!  See what Mini thought about Hard Rock Weddings by clicking here!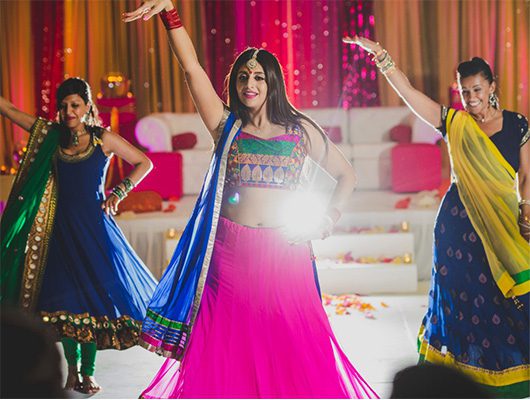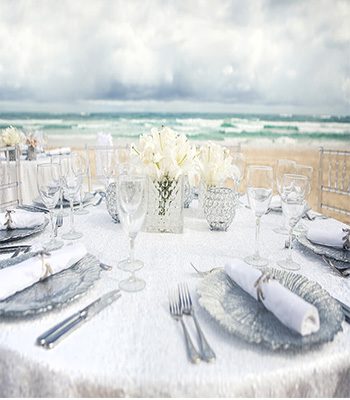 PALACE RESORTS
Many destinations have pre-designed wedding packages that include all the components of a beautiful wedding. At Palace Resorts, not only do they have several beautiful packages to choose from, but you'll also have the ability to completely customize your wedding from top to bottom. All the bride and groom have to do is add their personal touches with their very own wedding coordinator, and enjoy their event while the resort handles all of the heavy lifting.
THEY'RE LESS EXPENSIVE.
Yes, you read that right. Most couples will pay for their resort stay and wedding package, while your guests pay for their own transportation and accommodations. Here's the thing, you can take advantage of a ton of free benefits—as much as up to $27,000 in freebies. As in free rooms, free cocktail parties, free receptions and more. What about your guests? At Palace Resorts, your guests can enjoy up to $1,500 in Resort Credit, perfect for relaxing at the spa or a fun excursion!
Celebrate your culture and your love in perfect harmony with an Indian wedding at a tropical paradise.  Come together in love, luxury, and tradition with a tailor-made wedding that fulfills traditions and wishes. Plan your Indian Wedding at Palace Resorts with experienced Indian Wedding planners.
Palace Resorts offers:
Different Ceremony and Reception Venue Options (300 guests or more)
Customized Mandap options/Wedding Stage Decor options
Live Classical Music for Ceremony
Wedding Theme
Ghodi for Baraat Horse for Groom
Live Music & Entertainment
Video and Still Photography
Mehendi/Henna Artists
Fireworks
Floral Decor
Light Decorations
Transportation
Wedding Cake & Champagne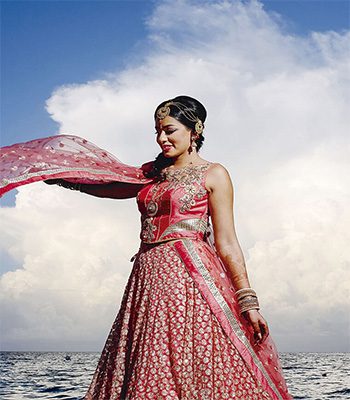 WHAT IS YOUR DREAM DESTINATION WEDDING?
Talk to us! Give us a call at 1.844.847.9704 to learn how we can help make YOUR AMAZING DAY STRESS FREE! Or, send us your information below and we will get back to you ASAP!
Request Destination Wedding Quote