Foods of India Tour
17 NIGHTS /16 DAYS
FROM $2,550
Get a Quote
Foods of India Tour
17 NIGHTS /16 DAYS
FROM $2,550
Get a Quote
OVERVIEW OF YOUR INDIA TOUR
Bains Travel is proud to be your India Tour Specialists since 1951!  Book an India Food Tour with us, or any other India Tour and we can help with your flights, transfers, insurance, and anything else you may need to make your India Tour the trip of a lifetime.
Our India Tour specialists are available for in person discussions in Vancouver, Surrey, Abbotsford, and Mississauga (serving the Toronto area).  Or, just pick up the phone from anywhere in the U.S. or Canada and one of our India Tour Specialists will customize any India Tour package just for you!  Interested in putting a group together? No problem, we are your one stop shop for everything India!
All of our India tours include a chauffeur driven vehicle, superior accommodation, some meals,  and a local guide. We offer 3, 4 and 5 star accommodation and compact, luxury and SUV vehicles. All tours can be customized to your specific preferences. Please call for pricing and availability.
TOUR HIGHLIGHTS
Explore and rediscover the culinary wealth of India on your gourmet tour of India. North India is known for its Mughlai cuisine, a creation of the chefs of the Mughal emperors. Known for its rich curries and heady aroma of spices, Mughlai cuisine has in store both vegetarian and non-vegetarian dishes for you. Up towards the North, the Kashmiri cuisine is known for its traditional feast or Waazwan, where many different meat dishes are prepared and served on a white sheet. The Kashmiris are very proud of their culinary skills.
Because of India's long coastline, seafood is quite popular with India's culinary experts. Different states in India have different recipes of preparing and cooking varieties of seafood. Different species of fish, crabs, shrimp, mussels and prawns are fried, baked, pickled, salted and preserved to make delicious dishes having a unique taste of their own.
Staple food items include various kinds of Indian flatbread, naan, chappatis, rotis, puris eaten along with vegetables, meat dishes, chutneys and pickles. In the South and East of the country, rice is the staple dish eaten at most meals along with pulses and yogurt.
South India is known for steamed and fried pancakes called idlis and dosas, made from ground rice flour and pulses. The Macchhi Bhat (Fish Curry and Rice) in West Bengal is stuck with the identification of Bengali community whether Brahmins or Non-Brahmins. Specially the Dal-Bati and Dal-Bafle of Rajasthan; Zarda (sweet rice) and Kabab Tikkas in Muslim cuisine; Dhokla and Khamand (sour snack item) of Gujarati cuisine; Five types of rice made in Tamil Nadu cuisine.
DAY 1 - ARRIVE MUMBAI
Meeting and assistance on arrival and transfer to hotel Leela Kempinski on your first day of your India Tour.
We have a special open snack & beverage counter for the group to relax over a drink & beat the jet lag.
Overnight at hotel.
DAY 2 - TO UDAIPUR
Late morning half day excursion to Elephanta Caves. An early morning excursion across the Mumbai harbour to 1200-year old Elephanta Caves housing some of the most beautiful rock-cuts of the period. The famous Trimurti sculpture of three-faced Shiva depicting his three aspects as Creator, Preserver and Destroyer is powerfully portrayed in the massive sculpture. Closed on Mondays and not available during the Monsoon.  Evening transfer to airport to connect flight for Udaipur.
Meet and assist on arrival and transfer to hotel Lake Palace for the next day on your India Tour.  Overnight at hotel.
DAY 3 - IN UDAIPUR
Morning half day city tour of Udaipur, a splash of colour in Rajasthan that is brighter when tinged with the tones of local lore and legends. Visit the City Palace, built in 1725, which houses the Dilkhush Mahal, Sheesh Mahal – studded w ith glittering Belgium Mirrors, Moti Mahal and the Palace of Lord Krishna all of which are ornately decorated. Later visit the Jagdish Temple. This temple built in 1651 is dedicated to Lord Vishnu, the preserver in the Hindu Trinity of Gods. Also you will visit the Sahelion Ki Barigardens and fountains.
Later drive around the Fatehsagar Lake.
Evening The Lily Pond dinner at Lake Palace: Under the stars beside the picturesque lily pond at the Lake Palace, a sumptuous buffet come sit down dinner consisting of variety of continental & Indian specialties and desserts are served. Accompanying the meal is Indian classical music.  Overnight at hotel.
DAY 4 - TO JAIPUR
Morning transfer to airport to connect flight for Jaipur.  On arrival transfer to hotel Rambagh Palace.
Afternoon city tour begins with a visit to the Maharaja's City Palace, the former Royal residence, part of it converted into a museum. A small portion is still used by the Royal family of Jaipur. Built in the style of a fortified campus, the palace covers almost one-seventh in area of the city.
One of the major attractions in the museum is the portion known as Armoury Museum housing an impressive array of weaponry-pistols, blunderbusses, flintlocks, swords, rifles and daggers. The royal families of Jaipur once used most of these weapons. Later visit the Jantar Mantar, which is the largest stone and marble-crafted observatory in the world. Situated near the gate of the city palace, the observatory has 17 large instruments, many of them still in working condition.
Dinner at Peshawari Restaurant in the hotel Rajputana Sheraton.
Peshawari is a brand Restaurant of ITC Hotels Ltd. and serves specialty North West Frontier Cuisine.  The Menu will be Tandoori Pomfret fish, Murgh malai kebab, Peshawri tikka, Tandoori aloo, Tandoori gobhi, Murgh makhani, Subz peshawri, Dal bukhara, Peshawri raita, Bharwan ku lcha, Pudina parantha, Turra, Naan.  Overnight at hotel.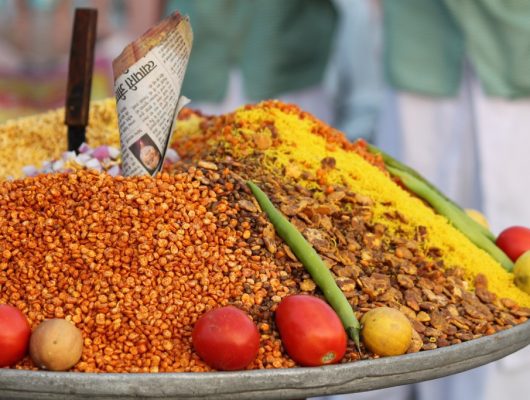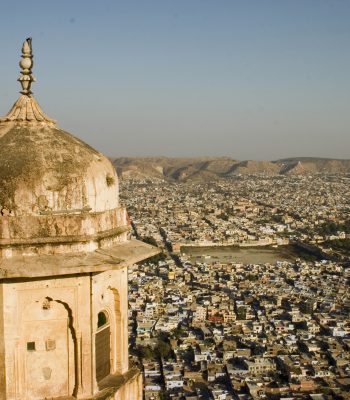 DAY 5 - IN JAIPUR
Morning half day Amber Fort with elephant ride. Amber is a classic, romantic Rajasthani Fort Palace. The rugged, time-ravaged walls of the Fort may not look beautiful from the outside, but the interior is a virtual paradise. Miniatures painted on the walls depict hunting and war scenes, apart from festivals. Precious stones and mirrors are embedded into the plaster. A major attraction at Amber is the Elephant Ride all the way up to the Fort entrance. This journey on caparisoned elephants is bound to enrich your memories with the Royal lifestyle of the Maharajas and leave you with a truly unforgettable experience. Inside the Fort visit the Jag Mandir or the Hall of Victory. Inside the Jag Mandir is the famed Sheesh Mahal – a room with all the four walls and ceiling completely embedded with glittering mirror pieces, which were specially imported from Belgium during that period. Enroute to Amber Fort, you will have a brief photography stop at Hawa Mahal – the Palace of Winds.
Afternoon at leisure. Dinner at Samode Palace or City Palace
OPTION 1: Durbar Evening at Hotel Samode Palace/ Samode (40kms from Jaipur)
A grand royal evening that takes you back to the days of the Maharajas. Guests are welcomed by camel cart procession accompanied by a local band and torch bearers. Royal welcome is organized with traditional "aarti" and "tikka" ceremonies, which is followed by champagne cocktail. The Palace and the fort are illuminated. Special dinner is laid out either
at Durbar Hall or Terrace, as per size of the group and preference. Sitar music is played during the dinner. Guests are entertained by folk dancers. The program concludes with fireworks.
OR
OPTION 2: Grand evening in the City Palace/Jaipur:
Grand evening: The entire city Palace and all the areas will be decorated and lit festively. The guests will enter the City Palace through the private entrance –The Tripolia Gate from the city. A senior staff member will receive the guests at the Mubarak Mahal-the guest reception hall in the earlier days and guided through the Rajendra pole gate to the Sarvato Bhadra Chowk-the hall of the Ministers. At the Rajedra Pole, the girls will shower rose petals on the guests from the Jharokhas-the open windows. Two Elephants, Four Horses and Four Camels will be lined up to welcome the guests near the entrance of private (Khasa) gate. The visitors will be welcomed with a garland and symbolic-teeka by the girls dressed Rajasthani costumes, followed with a refreshing non-alcoholic welcome drink or a glass of Indian Champagne. The guests will than be guided to the residential areas of the Royal Family by a senior staff member who will also explain to them the important facts about the magnificent rooms of the 18th century Palace.
A variety of cultural entertainment will be presented at the courtyard of the Sobha Niwas terrace on the 6th floor. Cocktail and delectable snacks will be served during the performance that will be for approximately 45 minutes. The Buffet with a combination of the specialties of the Royal Cuisine and some continental dishes will then be served to the guests at the Sukh Niwas- private sitting room or Sobha Niwas-the Gold room or at the Chandramahal Verandah, overlooking the Jai Niwas Gardens with fountains. A Live performance of the Indian instrumental music will be made while the guests are having the dinner.  Overnight at hotel.
DAY 6 - TO AGRA
Morning drive to Agra en route visiting Fatehpur Sikri. Located 40 Km from Agra, the deserted city of Fatehpur Sikri was built by Emperor Akbar in 1569, in honour of the great Saint Sheikh Salim Chisti who blessed Akbar and prophesized the birth of three sons to the heirless Emperor. Akbar used Fateh pur Sikri as his capital and the city was fully occupied for 14 years but slowly became deserted and ruined after Akbar left the city. Scarcity of water was the prime factor for the abandonment of this beautiful city. Visit the remarkably well-preserved, graceful buildings within the 'Ghost City' including the Jama Masjid, tomb of Salim Chisti, Panch Mahal Palace and other palaces that speak of the grandeur and splendour of the Mughal empire at the height of its power.  On arrival check in at hotel Amar Villas.
Evening we take you to Taj View hotel for an interaction with the Chef followed by a Bar-be-Que-tandori dinner.  A "tandoor" is a clay oven which imbues the food cooked in it with a unique flavour. A sizzling array of Indian "tandoori" delights, cooked over glowing coals, is served with a choice of "Tandoori rotis" (Indian bread). This barbecue dinner is held out in the open with live Indian music (sitar/tabla).  Overnight at hotel.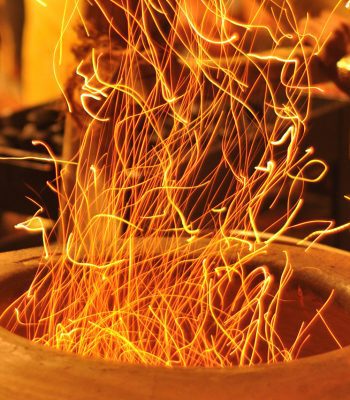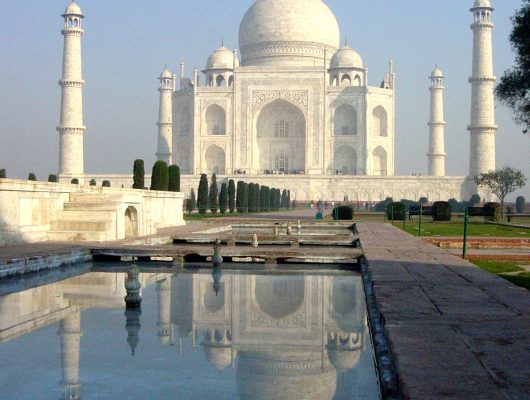 DAY 7 - IN AGRA
Morning visit Taj Mahal at sunrise. Visit the world-famous Taj Mahal built by Shah Jahan in 1560 in memory of his queen Mumtaz Mahal to enshrine her mortal remains. This architectural marvel is a perfectly proportioned masterpiece fashioned from white marble that stands testimony to the skill of 20,000 craftsmen brought together from Persia, Turkey, France and Italy and who took 17 years to complete this ' Love Poem in Marble'.  Afternoon at leisure, overnight at hotel.
DAY 8 - TO HYDERABAD
Morning drive to Delhi airport to connect to flight for Hyderabad. On arrival transfer to hotel ITC Kakaliya Hotels & Towers.
Overnight at hotel.
DAY 9 - IN HYDERABAD
Morning half day sightseeing tour of the city visiting the Charminar – rectangular, four-arched Monumental Gate often described as the "The Arch of Triumph of the East", the Mecca Mosque. Also visit the Salar Jung Museum, – one-man collection of manuscripts, ancient weapons, costumes and curios. Later drive past the High Court buildings.
Afternoon half day excursion to Golconda Fort situated on western outskirts of Hyderabad. The fort built in the 13th century, served the Kings as a stronghold, administrative center and market place. See the expansive roof-gardens. The fort has massive battlements, huge corridors and a complex series of concealed glazed water pipes and acoustics echoing the smallest sounds across the fort complex which enabled the fort withstand many an assault. Also visit the Tombs of Qutab Shahi Kings in beautiful domed mausolea surrounded by gardens. The tombs follow certain pattern with Hindu style ornamentation, while important ones have their own mosques.
Evening dinner at Dum Pukht restaurant at hotel Kakatiya Hotel & Towers. Dum Pukht recreates a 200-year old legacy that dates back to the kitchens of the nawabs of Awadh. A culinary tradition of cooking food over a s low fire in sealed 'deghs'. To create one of the most exotic cuisine in the world characterized by its subtle spices and delicate flavor. It is only opened for dinner, the reason being that it takes the chefs the whole day to get their fare ready for the evening service!  Overnight at hotel.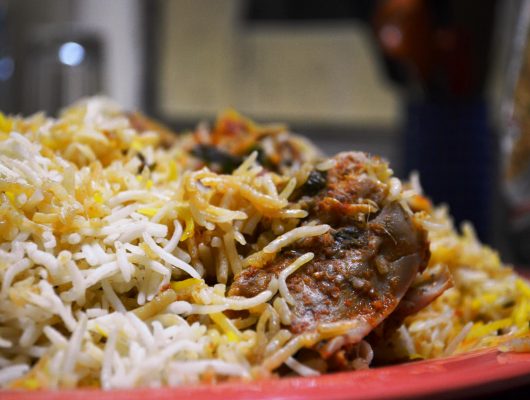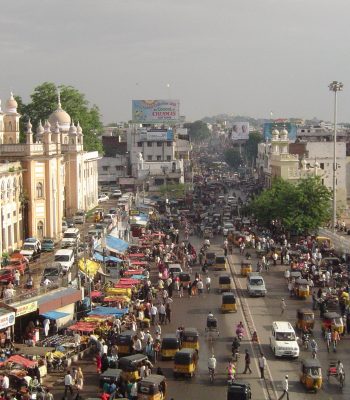 DAY 10 - TO COCHIN
Morning transfer to airport to connect flight for Cochin on your India Tour. On arrival drive to Kumarakom and check in at hotel Kumarkom Lake Resort on arrival.
Evening cooking demonstration with emphasis on Sea Food Grill, Fish/prawn curry or "Meen Pollichthathu"… fish cooked/baked with banana leaf and difference spices.
Followed by dinner. Overnight at hotel.
DAY 11 - IN KUMRAKOM
OPTIONAL: Morning cooking demonstration on 'Vegetarian Sadya" specially served on a plantain leaf and eaten with hand, sadya is the traditional feast of Kerala.  A three course meal, includes 40 vegetarian delights. This is at end rounded off with different varieties of payasams (sweet deserts).
In the afternoon after lunch, you can enjoy Ayurveda massage or relax at the bank Vambanad Lake.  Overnight at hotel.
DAY 12 - TO GOA
Morning drive to Cochin airport to connect flight for Goa. Meet and assist on arrival and transfer to hotel Taj Exotica or Leela Palace.  Overnight at hotel.
DAY 13 - IN GOA
Morning sightseeing starts from the slopes of Altinho Hill for a breathtaking view of Panjim and river Mandovi. Arrive to Donapaula for a view of India's largest natural harbour Marmgoa. Proceed to Old Goa visiting Basillica of Bom Jesus where in is enshrined the body of St. Francis Xavier in a silver ornate casket. Then to St. Cathedra, the biggest church in the East. St. Cajetan built like St. Peters (Rome), Church of Lady Rosary and St. Monica.  Afternoon at leisure.
Tonight it will be an traditional Goan seafood dinner by the pool side of your hotel with a live band in attendance.  Overnight at hotel.
DAY 14 - TO MUMBAI
Morning transfer to airport to connect flight for Bombay. On arrival transfer to hotel Taj Mahal Old Wing.
Overnight at hotel.
DAY 15 - IN MUMBAI
Afternoon half day visit to Gateway of India, Mumbai's principle landmark. This arch of yellow basalt was erected on the waterfront in 1924 to commemorate King George V's visit to this colony in 1911. Drive past the Afghan Church. Secretariat of Maharashtra Government and along the Marine Drive which is fondly known as the 'Queen's Necklace'. Visit Jain temple and Hanging Gardens which offer a splendid view of the city, Chowpatty, Kamala Nehru Park and also Mani Bhavan where Mahatma Gandhi stayed during his visits to Mumbai. Drive past Haji Ali Mosque, a shrine in honour of a Muslim Saint on an island 500 m. out at sea and is linked by a causeway to the mainland. Stop at the 'Dhobi Ghat' where Mumbai's 'dirties' are scrubbed, bashed, dyed and hung out to dry. Watch the local train passing close by on which the city commuters 'hang out like laundry' – a nice photography stop. Continue to the colourful Crawford market and to the Flora fountain in the large bustling square, in the heart of the city.
Farewell Gala-theme dinner as you bid adieu to India with Indian & foreign wines.  Overnight at hotel.
DAY 16 - LEAVE MUMBAI
In time transfer to airport to connect flight for onwards sector for the end of your India Tour and your journey back home.
WHAT'S INCLUDED IN YOUR INDIA TOUR
*Prices are based on twin sharing & include daily breakfast at the hotels, services of an English speaking local guide for sightseeing tours as per the itinerary, 02 bottles per person per day of mineral water, all prevailing taxes ie// luxury tax in all hotels and expenditure tax wherever applicable, all transfers to or from hotels, city tours, excursions, drives by air conditioned car, mandatory Government Service Tax as applicable , interstate road tax, toll tax, driver's allowance, parking etc.
WHAT'S NOT INCLUDED IN YOUR INDIA TOUR
*Prices do not include any lunch, dinner, snacks, mineral water etc. unless mentioned in the itinerary, airfare for guest, Wi-Fi charges at the hotels, (Wi-Fi is always chargeable at the hotels), monument fee $110 to $180 depending upon the tour, portage, laundry, telephone calls, table drinks or any other expenses of personal nature, any item not specified under cost includes.