Golden Triangle with Nepal
11 NIGHTS /12 DAYS
FROM $1,429
Get a Quote
Golden Triangle with Nepal
11 NIGHTS /12 DAYS
FROM $1,429
Get a Quote
OVERVIEW OF YOUR INDIA TOUR
Bains Travel is proud to be your India Tour Specialists since 1951!  Book a Golden Triangle Tour with us, or any other India Tour and we can help with your flights, transfers, insurance, and anything else you may need to make your India Tour the trip of a lifetime.
Our India Tour specialists are available for in-person discussions in Vancouver, Surrey, Abbotsford, and Mississauga (serving the Toronto area).  Or, just pick up the phone from anywhere in the U.S. or Canada and one of our India Tour Specialists will customize any India Tour package just for you!  Interested in putting a group together? No problem, we are your one-stop shop for everything India!
All of our India tours include a chauffeur-driven vehicle, superior accommodation, some meals,  and a local guide. We offer 3, 4 and 5 star accommodation and compact, luxury and SUV vehicles. All tours can be customized to your specific preferences. Please call for pricing and availability.
DAY 1 - ARRIVE DELHI
Morning upon arrival at Delhi airport & transfer to your hotel. Room booked for early in.
DAY 2 - IN DELHI
Morning after breakfast you will proceed for a full day city tour of Old & New Delhi. In the Old city visit Red Fort (drive pass) built by Emperor Shah Jahan; Jama Masjid, one of the largest mosques in India; Raj Ghat– the memorial of Mahatma Gandhi and enjoy a walking tour in Chandni Chowk– the silver street of Delhi bustling with activity.
In the afternoon visit Qutab Minar, the tallest stone tower in India; Humayun's Tomb built in the Indo Persian style and a predecessor to The Taj Mahal in Agra; India Gate – A War Memorial Arch. Also drive past the President's House, Parliament House, Government Secretariat Buildings and Connaught Place – the heart of New Delhi and a busy shopping center.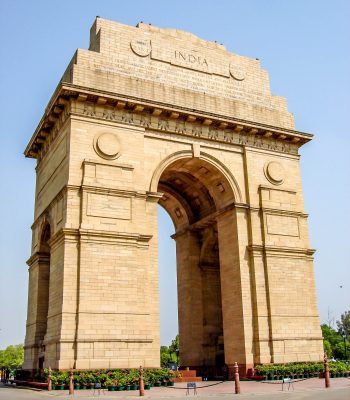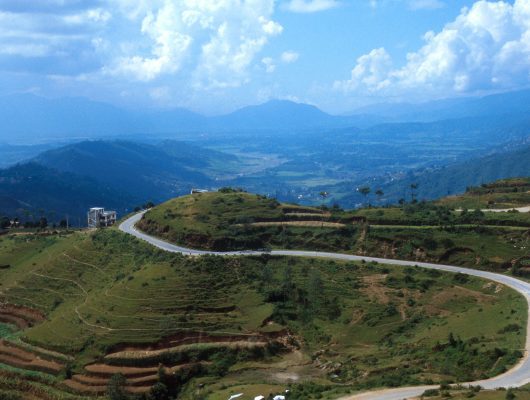 DAY 3 - TO AGRA
After early breakfast, Drive to Agra which is a very interesting 3 hours drive passing through beautiful countryside and villages.  En route stop at Sikandra, Akbar's mausoleum made of red sandstone, just before Agra.  Later continue your drive and arrive at your hotel and check-in at hotel.  Afternoon is at leisure.
Overnight is at hotel.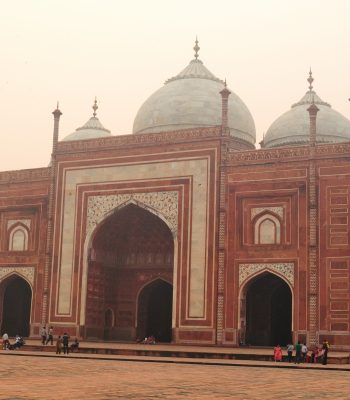 DAY 4 - IN AGRA
During your tour visit the red sandstone Agra Fort which stands like a crescent on the banks of Jamuna River enclosed by forbidding 20-meter high walls, with a 12-meter moat between them. Three successive Mughal emperors – Akbar, Jehangir and Shah Jehan – helped create this massive structure which contains Hindu and Muslim architecture
Then proceed to the famous white marble mausoleum, The Taj Mahal, which was built in the middle of the 17th century. It is surely the greatest monument to love and one of the wonders of the modern world. Completed in 1652, skilled craftsmen from Persia, Turkey, France and Italy and some 20,000 laborers worked for 17 years to build this edifice, constructed by Emperor Shah Jehan as a mausoleum for his beloved queen Mumtaz Mahal. Marble was brought from Makrana, near Jodhpur and precious stones of onyx, amethyst, malachite, lapis lazuli, turquoise, jade, crystal and mother of pearl were carried to Agra from Persia, Russia, Afghanistan, Tibet, China and the Indian Ocean.
Rest of the day is at leisure.  Overnight is at hotel.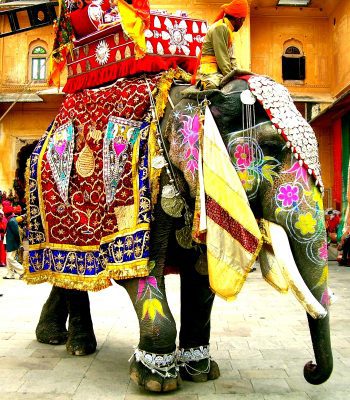 DAY 5 - TO FATEHPUR SIKRI & JAIPUR
This morning you will drive to the "pink city" of Jaipur and the capital of Rajasthan en route visiting the ancient Moghul capital of Fatehpur Sikri. This 16th-century capital of Moghul emperor Akbar is a complex of forts, palaces and mosques built in sandstone. The city had to be deserted because of a lack of water. The white marble Tomb of Sheikh Salim Chisti, Akbar's spiritual adviser, is now observed as a Muslim pilgrimage spot here.
Later continue your drive to Jaipur and check in at the hotel on arrival. Jaipur is known as the "pink city" with its buildings of pink and orange hues and it's a wonderful place to see the colour of Rajasthan and its people. Jaipur is well known for its beautiful carpets, enamelled ornaments, precious and semi-precious stones, brass ornaments and many other arts and crafts. The rest of the day is free to explore the colourful town independently.  Spend time in crowded lanes & by lanes of the pink city, haggling and souvenir-hunting.
Overnight is at hotel.
DAY 6 - IN JAIPUR
This morning you will drive to the outskirts of the city to visit Amber Fort, the ancient capital of the State until 1728. Visit the Temple of Kali, the Hall of Victory or Jai Mahal and Jagmandir. You can have the unique experience of travelling on an elephant back to the top of the hill on which the fort is situated.
In the afternoon visit the observatory, the Palace of Winds and the City Palace and Museum. The museum has an interesting textile section, which contains dresses and costumes of the former Maharajas and Maharanis of Jaipur.
Overnight is at hotel.
DAY 7 - TO DELHI
After breakfast drive back to Delhi. It is a 5 hour drive of 264 km.  Arrive and spend time for last-minute shopping/souvenir hunting.
Overnight is at Hotel.
DAY 8 - TO KATHMANDU
After breakfast, transfer to the International airport to board your flight for Kathmandu, for the last leg of your Golden Triangle with Nepal journey. You will be met at the airport and transferred to your hotel.
Kathmandu abounds in large places, beautiful and delicately produced temples, lofty Buddhist pagodas as well as museums, gardens and also a royal game sanctuary at Gokarnaban, a brief ride away.
The rest of the day is free for independent activities.
Overnight is at Hotel.
DAY 9 - IN KATHMANDU
Today you will visit Bhadgaon (Bhaktapur), the home of medieval art and architecture.  The city was probably founded by King Ananda Malla in 889 A.D. and is shaped like a conch shell.
Bhaktapur, the city of devotees, lies nine miles east of Kathmandu and its traditional crafts are pottery and weaving.  The Siddha Pokhari here is a historic reservoir near the city gate and it was built during the reign of King Yakshya Malla.  Durbar Square here contains innumerable temples and other architectural showpieces: The Lion Gate adorned with the splendid stone figures of Hanuman, Bhairab & Narsingha Narayan; The Golden Gate built by Raja Ranjit Malla, which is the entrance to the main courtyard of the Palace of Fifty-Five Windows.  The door is surmounted by a figure of Goddess Kali and Garuda, the winged carrier of Lord Vishnu, and attended by two sky nymphs; The Palace of Fifty Five Windows was erected during the reign of King Yaksha Malla in 1427 A.D. and was remodelled by King Bhupatindra Malla in the 17th century, among the bricks of the walls, with their gracious setting and sculptural design is a balcony of 55 windows- a masterpiece of wood carving.  Other important sites here are five-storeyed pagoda styled Nyatapola Temple, where all five terraces hold a different paid of figures namely wrestlers, elephants, lions, griffins, and goddesses.
On the way back to Kathmandu stop at Pashupatinath Temple standing on the bank of the sacred Bagmati river with two-tier golden roof and silver doors. It is famous all over the world for its superb architecture. Entrance into the temple precincts is restricted to Hindus only. The temple of Pashupatinath is a center of an annual pilgrimage on the day of Shivaratri.  Tough only Hindus are allowed to go inside the courtyard of the temple, therein tourists and visitors can clearly see the temple and the activities from the eastern bank of the Bagmati river.
Finally, stop at Boudnath stupa. This colossal and ancient Stupa is one of the biggest in the world.  Four pairs of eyes of Buddha in four cardinal directions are keeping an eternal watch over the people and their doings.
Overnight is at Hotel.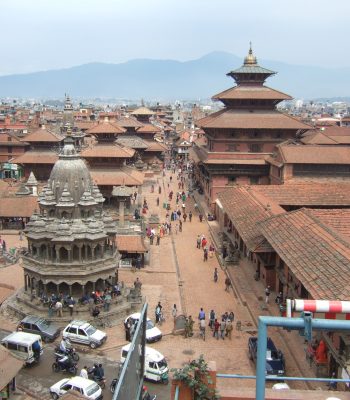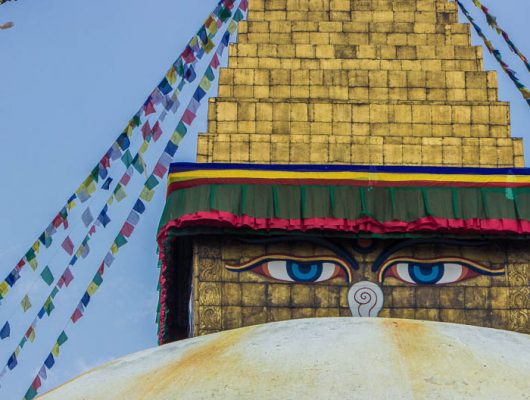 DAY 10 - IN KATHMANDU
After breakfast, you will visit Patan, indeed a city of beauty and grace. Planned on a circular format with Buddhist stupas (reliquary mounds) on the four points of the compass, the city is three miles south-east of Kathmandu city across the southern bank of the river Bagmati.  Its most photogenic centre of attraction is the Durbar Square or the palace complex, which is situated right in the middle of the marketplace.   It is a cluster of fine pagoda temples and stone statues.  The stone temple of Lord Krishna holds a commanding position in the palace complex of Patan.  Though its style is not wholly native, it has been reckoned as one of the perfect specimens of the Nepalese skill in temple-craft.  The three-story stone temple continues to elicit high praise from lovers of art and beauty.  Hiranya Varna Mahavihar is a three-story pagoda-styled Golden Temple of Lokeshwar (Lord Buddha) built in the 12th century A.D. by King Bhaskar Varma.  Located in the courtyard of Kwabahal, this temple belongs to a class by itself.  A golden image of Lord Buddha and a big prayer wheel are placed on the pedestal of the upper part of the Vihar.  Kumbheshwar is a five-story pagoda-styled temple of Lord Shiva.  Inside the courtyard is a natural spring having its source, as it is said in the famous glacial lake of Gosainkunda.  This temple was built by King Jayasthiti Malla and the golden finial was added in 1422 A.D.  The Jagat Narayan temple is a tall Shikara-styled temple consecrated to Lord Vishnu.  The temple is built out of red brick on the bank of the Bagmati at Sankhamul.  It enshrines many images in stone.  The fine metal statue of Garuda placed on a stone monolith is quite eye-catching. The images of Garuda, Ganesha and Hanuman seated on stone pedestals are also worth seeing.
Finally, the temple of Mahaboudha is a masterpiece of terracotta. Like the Krishna Mandir, it too reveals an art tradition, which was not evolved in Nepal.  Yet like Krishna Mandir, it also does show that the native craftsmanship of the Nepalese can do proper justice to any form.  It is sometimes described as the temple of million Buddhas because every brick contains a fine figure of the Buddha.
DAY 11 - IN KATHMANDU
Morning is free for Optional Everest Flight.
In the afternoon you will be taken on a tour of the city covering Hanuman Dhoka: this is the historic palace of the ancient kings of Nepal. A complex of many temples and monuments, guarded by a huge statue of the Monkey God, Hanuman, it has evolved to its present state of maturity over a period of centuries with contributions from a number of dynasties, headed by Malla Kings.  A most outstanding example of Nepal's art and architecture here is the towering nine-storeyed edifice known as Kailash.  Also visit the Residence of the Living Goddess near Durbar Square, which is the residence of Kumari, the Living Goddess (virgin goddess).  Its wooden balconies and windows are profusely carved.  It was built in 1960 by King Jaya Prakash Malla.
Also stop at Kasthamandap, the wooden temple built by Laxminarsingh Malla at the beginning of the 17th century.  It is situated at the main thoroughfare of the city and made of the timber sawed off a single tree.  Later visit Swayambunath, said to be 2000 years old and one of the world's oldest Buddhist chaityas. The stupa, which forms the main structure is composed of a solid hemisphere of brick and earth supporting a cornice of copper and gilt.  Painted on the four sides based on the spire are the all-seeing eyes of Lord Buddha.  Situated on a hillock it is about 250 feet high above the level of the valley.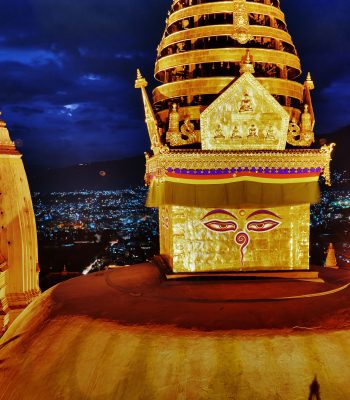 DAY 12 - TO DELHI
In time transfer to airport for flight for Delhi. On arrival you would be transit till time to board your flight for onward destination.
WHAT'S INCLUDED ON YOUR INDIA TOUR
• Meeting & assistance during arrival/departure by airport representative.
• 11 nights' hotel accommodation on Twin sharing basis.
• Stay in the hotels on a room & breakfast basis using the starting room category.
• All transportation services including airport transfers, sightseeing, intercity drives, excursions using an air-conditioned vehicle.
• Services of a local English-speaking local guide as per the program.
• Battery Van ticket charges to visit Taj Mahal in Agra.
• Elephant failing Jeep ride to go up to Amber Fort in Jaipur.
• Jeep ride to come down from Amber Fort in Jaipur.
• 02 mineral water bottles (500 ml) per person per day during city tours.
• All presently applicable taxes.
WHAT'S NOT INCLUDED ON YOUR INDIA TOUR
• Still / video camera fee at monuments.
• Expenses of personal nature like Tips, soft drink, smokes, liquor, laundry, and telephone calls.
• Domestic airfare for Delhi – Kathmandu – Delhi sectors
• Entrance fee to the monuments as per the program (01-time visit)
• Travel insurance.
• Please note that any changes in entrance fees or government taxes will be payable extra and the same will be advised to you if applicable.
• Any service not mentioned in the inclusions.