WESTJET 787 DREAMLINER ADVANTAGES
A smooth journey
The WestJet 787 Dreamliner has smart sensors that detect turbulence and are designed to reduce motion sickness eightfold, according to Boeing.
A spectacular view of the world
The biggest window size of any aircraft, positioned so that everyone can enjoy the views
Dreamliner interior includes high vaulted ceiling, wide body, and adjustable LED lighting
No more shades – windows are dimmable at the touch of a button
A greener machine
Dreamliners use 25% less fuel per passenger compared with aircraft of a similar size
10% more fuel efficient than the best of its competition, according to Boeing
Welcome a breath of fresh air
More humid cabin air means your throat and eyes suffer less dryness
Cabin is pressurized to 2,000 ft lower than the standard 6000ft, making it easier to breathe
HEPA (high efficiency particulate air) filtering technology – the same used in hospital operating rooms
Experience a quieter cabin
A quiet air conditioner and technology that reduces vibrations in sidewalls, ceilings, and softens engine noise
Better speakers make the public address system easy to hear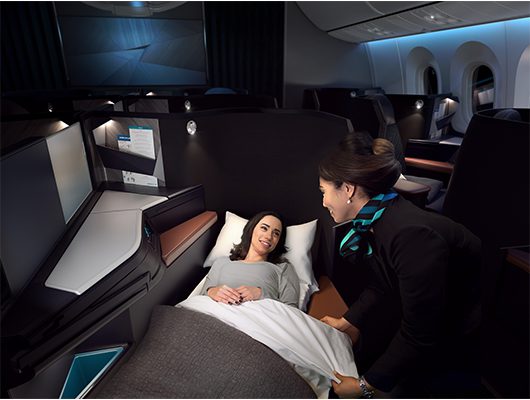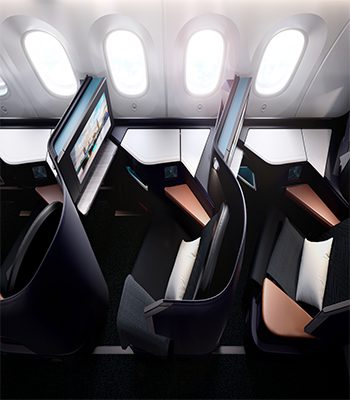 OH.MY.POD!
The new Business cabin has arrived with WestJet's first Boeing 787 Dreamliner!
Fly in a spacious pod on our 787 Dreamliner.
Available on: Boeing 787-9 Dreamliner
Flying to select destinations within Canada and Internationally. Experience varies based on flight schedule.
With their state-of-the-art Boeing 787 Dreamliner, you're in for an exceptional experience on board. From enhanced menu offerings & Entertainment options, to lie-flat seats accompanied by luxurious blankets and pillows, whether you're travelling for business or leisure, you'll quickly understand that WestJet mean business. For international flights they have also partnered with top Canadian brands to provide you with exclusive amenity items, including nourishing skin care products and more!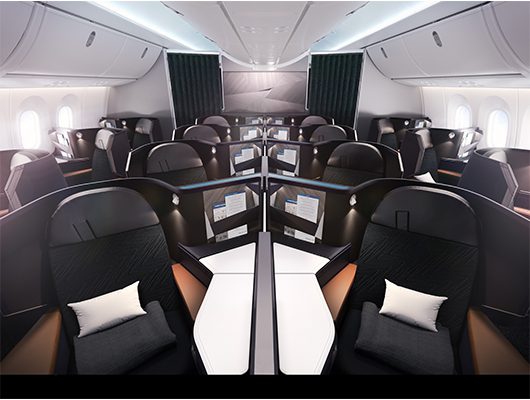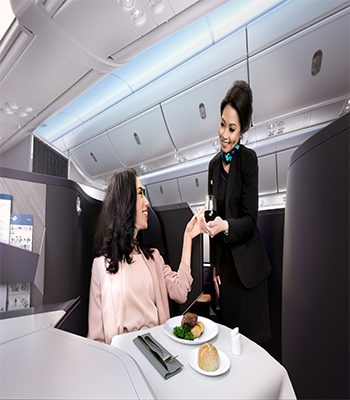 CALGARY DIRECT BUSINESS CLASS DESTINATIONS & PRICING
CALGARY TO DUBLIN BEGINS JUNE 1, 2019
Starting from just $3,224
CALGARY TO PARIS BEGINS MAY 17, 2019
Starting from just $3,568
CALGARY TO LONDON (GATWICK)  BEGINS APRIL 28, 2019
Starting from just $4,146
CALGARY TO TORONTO BEGINS FEBRUARY 20, 2019
Starting from just $1,699
*Pricing includes all taxes and fees, and is subject to availability.
CONTACT US FOR PRICING AND AVAILABILITY
Contact us to learn more about Business Class, Premium Economy, & Economy on this new exceptional WestJet Boeing 787 Dreamliner! Call us at 1.844.847.9704 or send us a message and one of our agents will get back to you ASAP!