OVERVIEW OF YOUR INDIA TOUR
Bains Travel is proud to be your India Religious Tour Specialists since 1951!  Book an India Religious Tour with us or any other India Tour and we can help with your flights, transfers, insurance, and anything else you may need to make your India Tour the trip of a lifetime.
Our India Tour specialists are available for in-person discussions in Vancouver, Surrey, Abbotsford, and Mississauga (serving the Toronto area).  Or, just pick up the phone from anywhere in the U.S. or Canada and one of our India Tour Specialists will customize any India Tour package just for you!  Interested in putting a group together? No problem, we are your one-stop-shop for everything in India!
All of our India tours include a chauffeur-driven vehicle, superior accommodation, some meals,  and a local guide. We offer 3, 4 and 5-star accommodation and compact, luxury and SUV vehicles. All tours can be customized to your specific preferences. Please call for pricing and availability.
DAY 1 | ARRIVE DELHI
After arrival at Delhi. Meet our representative at the airport who will escort you to the hotel. Check-in at the hotel. Rest of the day at leisure, overnight at the hotel.
DAY 02 | IN DELHI
Early morning after breakfast, leave the hotel to visit Gurudwara's – Bangla Sahib, Sis Ganj and Rakab Ganj.  Gurudwara Bangla Sahib is one of the most prominent Sikh gurdwara's, or Sikh house of worship and known for its association with the eighth Sikh Guru, Guru Har Krishan, as well as the holy river inside its complex, known as the "Sarovar."
It was first built as a small shrine by Sikh General Sardar Baghel Singh in 1783, who supervised the construction of nine Sikh shrines in Delhi in the same year, during the reign of Mughal Emperor, Shah Alam.  The grounds include the Gurudwara, a kitchen, a large (holy) pond, a school, and an art gallery. As with all Sikh Gurdwaras, the concept of langar is practiced, and all people regardless of race or religion may eat in the Gurdwara kitchen (langar hall). The Langar (food) is prepared by gursikhs who work there and also by volunteers who like to help out.
Later in the day visit the main tourist attractions of the city like India Gate, Parliament House and Red Fort as must-see on any India Tour.  Overnight at hotel.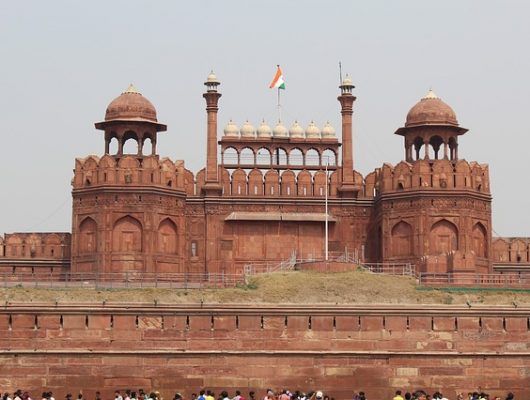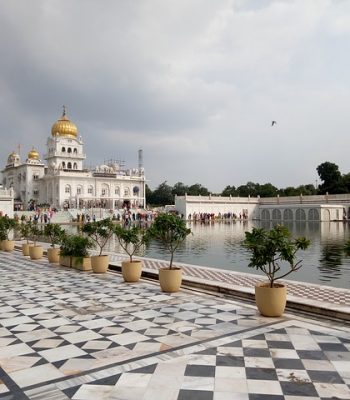 DAY 03 | TO RISHIKIESH
In the morning after breakfast, head for Rishikesh. Upon reaching Rishikesh check in at the hotel.  Overnight at the hotel.
DAY 04 | IN RISHIKIESH
After resting for a while, start for a short visit to the temples and ashrams of Rishikesh.  The ashrams are a must-see in Rishikesh and while the main part of this India tour is focused on Gurudwara's there is a lot of other sites to visit.  In the evening visit ghats of the river Ganges for attending the Aarti ceremony.  Overnight at the hotel.
DAY 05 | TO CHANDIGARH VIA PAONTA SAHIB
Post breakfast, head straight to Chandigarh. Stop midway to visit Gurudwara Poanta Sahib. Resume with your drive to Chandigarh. Upon arriving, check-in at the hotel.  Spend the rest of the day at leisure, overnight at the hotel.
DAY 06 | CHANDIGARH
A visit to Anandpur Sahib and Gurudwara Parivar Vichhora.  The Anandpur Sahib – Gurudwara is situated on the left bank of the river Satluj.  Anandpur Sahib was founded in June 1665 by the ninth Sikh Guru, Guru Tegh Bahadur.  He previously lived in Kiratpur, but given the disputes with Ram Rai – the elder son Guru Har Rai and other sects of Sikhism, he moved to the village in Makhoval.  He named it Chakk Nanaki after his mother. In 1675, Guru Tegh Bahadur was tortured and beheaded for refusing to convert to Islam under the orders of the Mughal Emperor Aurangzeb, a martyrdom that led Sikhs to rename the town to Anandpur and crown his son Gobind Das as per his orders (also known as Gobind Rai) as his successor and famous as Guru Gobind Singh.  Overnight at hotel.
DAY 07 | TO AMRITSAR
Leave for Amritsar in the morning by road. Check-in at the hotel upon arrival. After resting for a while, visit the Golden Temple, one of the most important sites in India and an important stop on any India tour. Halt for the night in Amritsar, overnight is at the hotel.
DAY 08 | IN AMRITSAR
After early breakfast leave for an excursion to Tarn Taran, built in the memory of Guru Arjun Dev. Later drive to Gobindwal, a short drive from Tarn Taran. Afterwards proceed to Hazoor Sahib to visit the Samadhi of the second Sikh guru, Guru Angad Dev Ji.  Overnight at the hotel.
DAY 09 | IN AMRITSAR
In the morning after breakfast, set out to visit Jalianwala Bagh, the historic site where hundreds of men, women and children were massacred by British General Michael Dyer. Later in the day proceed to Gurudwara Baba Bakala. In the evening visit Wagah Border for witnessing the Flag Retreat / Changing of Guard Ceremony.  Overnight at the hotel.
DAY 10 | TO DELHI
After breakfast, transfer to the railway station to board your train for Delhi. On arrival in Delhi, meet & assist by our representative and transfer to the airport to board your flight for your onward destination.
WHAT'S INCLUDED IN YOUR INDIA TOUR
Prices are based on twin sharing & include:
Daily breakfast at the hotels
Services of an English speaking local guide for sightseeing tours as per the itinerary
2 bottles per person per day of mineral water
Prevailing taxes ie// luxury tax in all hotels and expenditure tax wherever applicable
Transfers to or from hotels
City tours & Excursions driven by air-conditioned cars
Mandatory Government Service Tax as applicable
Interstate road tax, toll tax, driver's allowance, parking etc.
WHAT'S NOT INCLUDED IN YOUR INDIA TOUR
Prices do not include:
Lunch, dinner, snacks, mineral water etc. unless mentioned in the itinerary
Airfare for guest
Wi-Fi charges at the hotels, (Wi-Fi is always chargeable at the hotels)
Monument fee $110 to $180 depending upon the tour
Portage, laundry, telephone calls, table drinks or any other expenses of personal nature
Any item not specified under cost includes
CONTACT US FOR MORE INFORMATION!
We have offer fully customizable India tours for the lowest prices! Call one of our knowledgeable India Tour Experts to begin planning your exciting adventure today at 1.844.847.9704.  Or fill out the form below and one of our agents will get back to you ASAP!